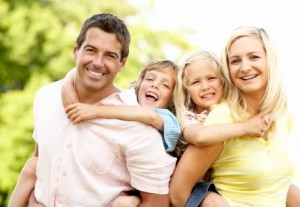 Life insurance is a core component of most families' financial plans. Learn why it's an essential investment for protecting your assets—and your loved ones.
Recent years have hurt more than helped the financial security of most Americans and their families.
Savings are low. Personal spending continues to rise, hand in glove with consumer debt. And huge numbers of eligible employees don't participate in 401(k) and 403(b) plans—or don't contribute enough.
Take a moment to think about your personal financial situation. Are you saving enough for retirement? Would your family be able to financially survive without your income? If the answer to either question is "no," you're not alone. The fact is, fewer and fewer Americans are setting aside enough money to achieve their financial objectives, let alone protect what they already have.
The good news is that you can help smooth the road to financial security in the future by making educated choices today.
Don't neglect your insurance needs.
Immediately following September 11, 2001, new life insurance applications and coverage increases rose, but now the issue is fading from the minds of the American public. People are once again neglecting their protection needs.
Life insurance is a core component of most families' financial plans. It provides a degree of financial protection against the certainty of death and can help survivors cover specific costs after you're gone.
If you die, your family not only loses your income—they may also have to spend your retirement savings just to get by. Life insurance helps to close that gap and maintain long-term investments for the well being of your beneficiaries.
Consider the types of life insurance available:
Term life insurance provides budget-based coverage for a specific "term" of time, and is best for covering temporary expenses like consumer debt or a mortgage. Term policies can usually be converted to permanent policies.
Permanent life insurance provides long-term coverage, plus tax-deferred cash value that can be accessed or converted to an annuity. Permanent policies usually come at a higher initial premium, but the cash value helps to offset future out-of-pocket costs.
Life insurance death benefits are usually income tax-free and can be used to complete a retirement plan, generate lifetime income, pay off the mortgage, and provide funds for childcare, college educations, and more. Life insurance policies that accumulate cash value can often provide tax-advantaged money to help meet retirement or emergency cash needs, too.
Professional Insurance Programs can help you determine which policies are best for your unique situation. Whatever your goals, a life insurance policy isn't only a "just in case" investment. It's a way to help ensure that the people you love are cared for, even if you're no longer with them. Contact us today, 800-637-4676 or info@profinsprog.com.
Source: Principal