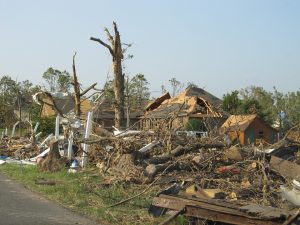 With the recent severe storm that have passed through Wisconsin, the Wisconsin Insurance Commissioner, Ted Nickel, has offered valuable tips in dealing with the aftermath of storms.
Notify your insurance agent or insurance company as soon as possible to begin filing a claim. Make sure you provide a telephone and/or e-mail address where you can be reached. Your insurance company may also have representatives on the scene to speed up the handling of claims.
Check your policy:

Most homeowner's policies do not cover flooding or seepage through the foundation which is covered under a separate flood insurance policy sold through the National Flood Insurance Program.
Most comprehensive auto policies provide coverage for vehicles damaged in a flood. However, if you purchased collision-only coverage, you may not have coverage.

Pay attention to local news to find out if state and federal agencies are available on-scene to help with relief efforts.
Make a detailed list of all damaged or lost personal property. It will help to take photos of the damage. Your adjuster will need evidence of the damage and damaged items. Do not throw out any damaged property without your adjuster's agreement. If local officials require the disposal of damaged items before the insurance company's claims adjuster can inspect the damages, take photos and keep a swatch or other sample of damaged items for the adjuster (e.g., cut swatches from carpeting, curtains, and chairs).
Separate damaged items from undamaged items.
To avoid scams, make sure to take your time. If you feel pressured to sign a contract quickly, take a step back and investigate. Rebuilding your home or business is important, but quickly signing a contract with an unscrupulous party can make a bad situation worse.
Contact your insurance company again if an adjuster has not been assigned to you within several days.
You can read the full press release
here.
Questions on your policy or how your policy would handle storm damage? Let us help you! Contact our office at 800.637.4676 or email info@profinsprog.com.